Club News
22/23 Financial statements submitted
The club has today (Monday, 20 November) filed its Annual Report and financial Statements for the year ended 30 June 2023 at Companies House.

The Annual Report and Financial Statements outline the club's financial position as of 30 June 2023 and cover the 2022/23 season in Sky Bet League One. It was a truly memorable year which saw us reach the Papa John's Trophy final at Wembley and go on to celebrate our promotion to the Sky Bet Championship by clinching the league title in the final game away at Port Vale.

As previously, and in line with our club Value of Transparency, Argyle Head of Finance, David Ray, writes to members of the Green Army to provide wider context, and explain what the report means for Argyle's overall financial health.

You can also view the submitted report, in full, by clicking here. Please note that the submission may take a couple of working days to be processed and appear on the Companies House website. As communicated last week, we will also be holding a Fans' Forum on Thursday 30 November where fans can ask any questions on today's release.

We endeavour to publish accounts as quickly as possible. Today's submission to Companies House is earlier than required as we recognise that the financial information is a snapshot so most useful when it is provided in a timely and understandable manner. Moreover, it is important to us that Argyle fans understand their club's financial position and of course its strategic direction. We hope this report and accompanying explanation help achieve that aim.
"I will begin by summarising key aspects from the report before looking at each of them in more detail.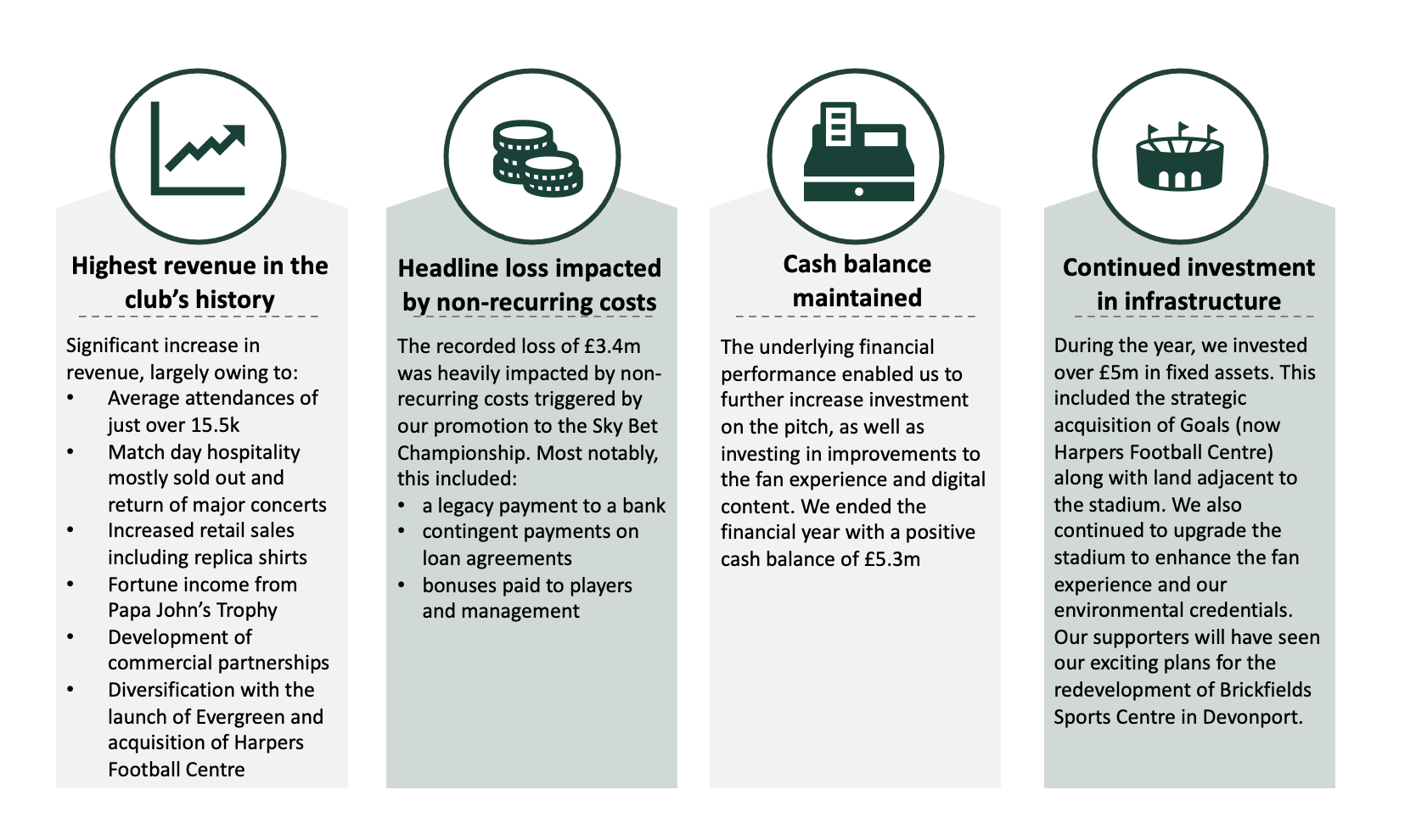 We generated the highest income in the club's history

Total income in the year was over £15m – the highest the club has ever achieved and 28% greater than in the 2021/22 season, when Argyle narrowly missed out on a play off place despite having collected 80 points. The chart below shows how we have been able to grow our total income over recent years. This reflects the board's approach towards smarter/data driven decision making to promote long term sustainable growth including the diversification of operations where appropriate.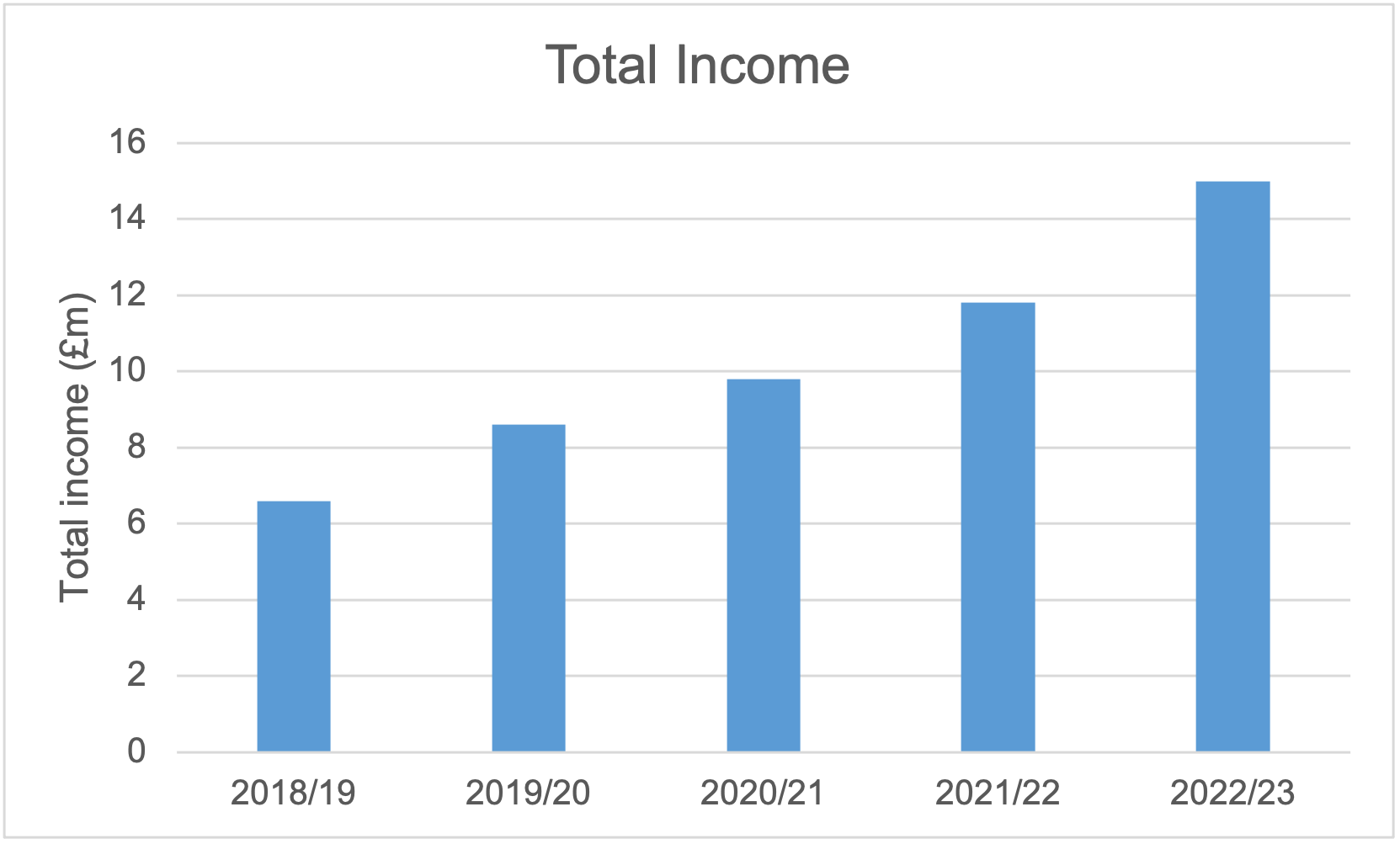 Once again, the largest proportion of our income came from ticket sales, at £4.9m compared to £3.9m in 21/22(a 26% increase).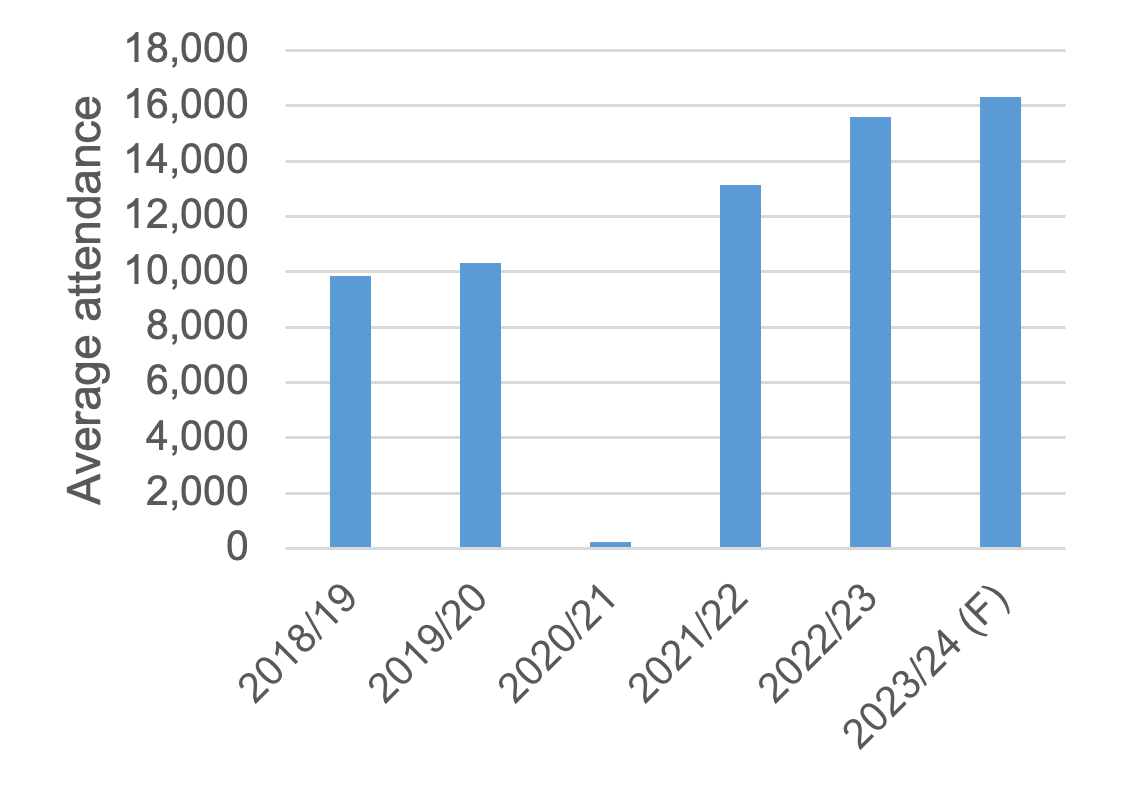 Although we received £0.4m in gate receipts from our 22/23 Papa John's Trophy campaign, including huge support of 37,000 Argyle fans at the Wembley final, the main driver behind the increase in ticket revenue is the fantastic support of the Green Army in the league. Clearly, we have come a very long way with an average attendance at Home Park of 15,582 during 2022/23, compared to 10,413 just five years ago and the enhanced revenues have contributed towards an enhanced football budget.
We had extremely busy Club Argyle hospitality areas throughout the 2022/23 season, which, together with the kiosks, generated £1.6m of income over the course of the season. We also generated £1.3m of income from non-match day events including the return of major concerts to Home Park. The success of Home Park as a venue is only going to grow in 2023/24 with further concerts planned, including Take That in May 2024.
The Argyle Superstore and online retail also generated record sales of £1.8m - an increase of 45% on 2021/22. This was boosted by exceptional demand for our replica kits and the introduction of new product lines.
Argyle TV generated £0.4m of net income with new and improved content delivering growth in this area.
Sponsorship income also continues to rise, supported by the allocation of stand naming rights and the introduction of a big screen at Home Park.
"Other Operating Income" of £0.4m is predominantly made up of a gain following the sale of Panutche Camara to Ipswich Town in September 2022.
Crucially, this continued growth in revenue has enabled us to progressively increase the player wage budget.

The headline loss was impacted by non-recurring costs

This growth in income enabled us to increase the amount invested in player wages. We saw the return of this investment on the pitch, albeit with a playing budget of around a third to a half of most frontrunners in the league. This underlines the remarkable achievement by Steven Schumacher and his team.
The loss during the year of £3.4m was largely a result of one-off non-recurring costs triggered by our promotion.  This included contingent payments on player loan transfer agreements, performance bonuses to first team players and management, along with a legacy payment to a bank in accordance with an agreement entered into when the club exited administration in 2011. 
Other cost pressures encountered resulted from the high level of inflation across the wider UK economy and scaling up to accommodate the return of major concerts at Home Park, the launch of Evergreen and the acquisition of Harpers Football Centre.  These all form part of our long-term strategy of diversification and optimising the use of our facilities.
Whilst a loss of £3.4m in the year is recorded, as noted above this was largely as a result of exceptional items and we remain committed to operating sustainably.
Healthy cash balance
Our cash balance fell by £1.5m to £5.3m at the financial year end but we remain in a very healthy financial position. Net assets increased to £15.8m and the club continues to be debt free.
During the year the club brought in £4m of new shareholder funds and invested over £5m in fixed assets that will generate long term returns and thereby strengthen our club.  This included the following:
Recruiting younger players with high potential for transfer fees

Strategic acquisition of Harpers Football Centre

Improvements to the area behind the Beacon Electrical Mayflower Grandstand

Solar panels on the stadium roof

Introduction of a big screen at Home Park
Continued investment in fixed assets
Our Chairman, Simon Hallett, announced our revised five-year mission earlier this month - "To be a sustainable top six Championship club within five years, with Premier League aspirations."
There are five key pillars that the club believes are key to achieving our mission including, from a financial perspective, "an intention to continue to operate sustainably and invest in key identified areas providing the club with long term financial strength and growth". This plan will build on the achievements to date and will provide an exciting future for Argyle.
There remains a clear intention to continue investing in fixed assets to benefit Argyle in the long term, including our active participation in the redevelopment of Brickfields. We recognise that our healthy cash reserves will provide only some of the funding for these infrastructure projects that will support our longer-term ambitions.
Thank you
Despite the headline loss, we are proud of the the significant progress achieved over the year and we are incredibly excited about the future of our club.  We thank our supporters, partners, and the wider Argyle community for their valued contributions to another strong year for our club and look forward to discussing this further during the next Fans' Forum.