Club News
Ambassador's Argyle Archives | No.2: A Weekend With Legends
We love our unique history at Argyle, but as well as the famous games and star performers, there are many tales of the unusual. Club ambassador Gordon Sparks will be unearthing the humorous, surprising and behind the scenes tales of years gone by in this fascinating series underlining what makes our club special.

There must be something about Plymouth Argyle and the city itself that so many players make their permanent homes here, while others are more than happy to make return visits.
Paul Hart does such a tremendous job with The Argyle Legends which gives us all a chance to catch up with great names from the past at first team games, charity matches, and dinners.
But one player had the idea of a get together in 1998 and contacted me with the thought of holding a reunion for those who played for the club during the first half of the 1970s.
Jimmy Hinch wanted to catch up with a few former teammates and meet others from the era. 

But Jimmy (who now prefers to be known as James) lived in California at the time where he became a very successful businessman.
When he phoned me about his plan, he admitted he had no other telephone numbers but knew that through my work I could track down a few players.
I realise how lucky I am that over the years I have also become great friends with many of those I idolised from my schoolboy days on The Devonport End terrace with my green and white scarf tied around my wrist.

One of those was Paul Mariner who, at the time of the reunion, was living in Cambridge, Massachusetts.  He was up for flying over!
What a start. I could tell others: "Paul's coming!"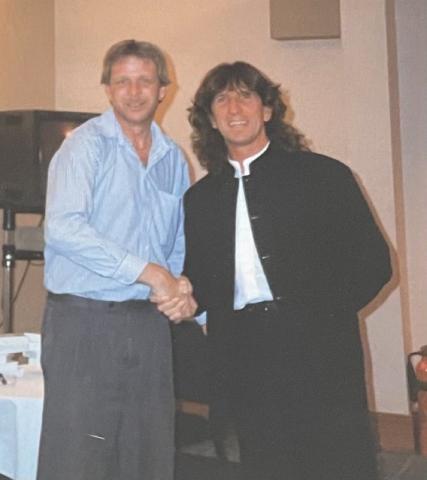 With a number of players abroad and spread all over the UK, James suggested we hold the event in London because it would be easier for everyone to meet there.

I managed to persuade around 40 players to attend.  I remember getting the same train as Steve Davey from Plymouth and John Hore met us from Exeter. The banter was immediate.

A whole swathe of rooms were booked at the Marble Arch Hotel. Very posh. We also paid for a private dining area for the first night. Well, James paid - and then told me my room for the two nights had been taken care of.  He also looked after everyone's meals on the night - and the second night when we booked a whole basement of a Covent Garden restaurant.

In advance of the weekend, I thought we needed something as entertainment on the first night. 

I took a load of memorabilia from the era and also commissioned the South West Film and TV archive to make a video of some of the great matches and goals.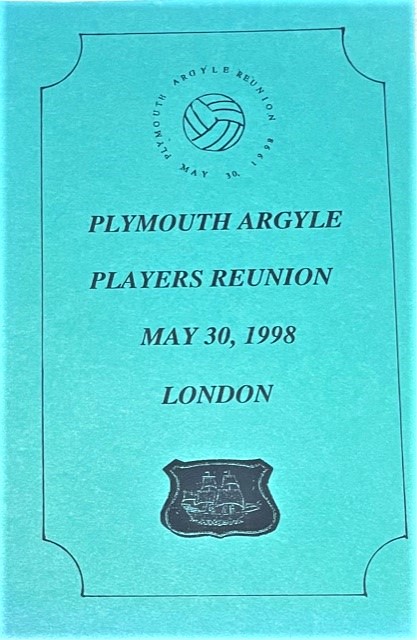 We got the hotel to set up a TV set and video player in advance.
The reactions were priceless.
"Look at those shorts." "Look at his hair." "You scored THAT?" "The crowds!"
As soon as the video finished, everyone demanded it be played again.
James asked the players to contribute to the cost of a copy of the video they each took away. Phew!!!! I was already dreading Mrs S seeing our telephone bill.

The evening went well, and an abiding memory was that I may have been the only non-player in the group but was never felt to be left out. 

After the meal on the second night, Mariner decided we should all go to a night club. Oh my days!
The beer flowed from Covent Garden to a late-night venue in the Oxford Street area of which I cannot recall the name.  
Now, as Paul was a former England international and also played for Arsenal, he was constantly mobbed outside the London restaurant, on the way to the club, and in it.

In the nightclub, Steve Davey - equally as mischievous as Paul - took umbrage that he was getting all the attention, as Paul patiently signed autographs for a queue of fans.  It was before the time of the selfie.

Steve went up to the queue and shouted above the music levels "does anyone want my autograph?"

Somebody asked who he was.

"Steve Davey!!!!!"
One guy, totally confused, took a look at him and said: "No, you're fine."
If, like me, you like to wallow in some Argyle nostalgia, here are some Jimmy Hinch fun facts:
* He was signed by Ellis Stuttard in an exchange deal from Tranmere Rovers with central defender Fred Molyneux moving in the opposite direction. How many exchange deals do you see these days?
* After the first three League games of the 1973-74 season, Hinch was dropped in favour of Mariner to make his Argyle debut. He scored twice in a 5-0 win over Rochdale.
* Hinch had two spells in the USA, firstly in the American Soccer League. In 1976, he was awarded the League's Most Valuable Player award after scoring 13 goals in his 18 games with Los Angeles Skyhawks and a place in the All-Star team.
* There was another Argyle connection in that team when he was reunited with midfielder Micky Cave who played alongside Hinch in each of his eight games for Argyle on loan from Bournemouth.
* Following two years back in England, Hinch played in the more notorious North American Soccer League - spending two seasons with California Surf.
Returning to my reference to The Argyle Legends, the parallel from the reunion weekend in London in 1998 and seeing the Legends meet up nowadays is the camaraderie. Yes, from former playing colleagues, but also between players of different eras.
Their common bond is they were, and still are, Pilgrims. They are a massive part in what makes our club so special.