Club News
Ground renovations underway
If you were to glance across the usual, green, pristine playing surface of Home Park today, it would look a little different to normal.
The luscious green has given way to a pinky brown as it undergoes its annual makeover.
Chris Ralph and his grounds team have no let up when the season ends, they are immediately getting down and dirty, to make sure everywhere is as perfect as it can be for the new season.
The stadium pitch renovations are in full flow, Harper's Park is halfway through its spruce up and the sites at Manadon and Millennium Street are also getting improved.
But what happens, and why? Well, fortunately Grounds Manager Chris Ralph was on hand to explain just what is going on:
"We're in the middle of our annual grounds renovations. All four sites will be worked over, improved and refreshed so when the players come back for pre-season next month, everything will be just right for them.
"We try to do pretty much the same at all the venues and put as much effort into all of them.
"If we start with the stadium pitch, the one everyone sees, it's a fibre-sand pitch and that will need a refresh.
"The first process was to spray the pitch to kill the grass - everything that's out here. The main reason for this is to get rid of the poa, or meadow grass, that just naturally seeds throughout the season.
"We're in the middle of a park here, so get it worse than other clubs, but doing this minimises the chance of it taking over.
"We'll then Koro off the surface, or cultivate it, and take about 25mm off the surface. It comes off in strips and will eventually have a pinky look to it because of the sand. We just need to make sure there is no organic matter in it.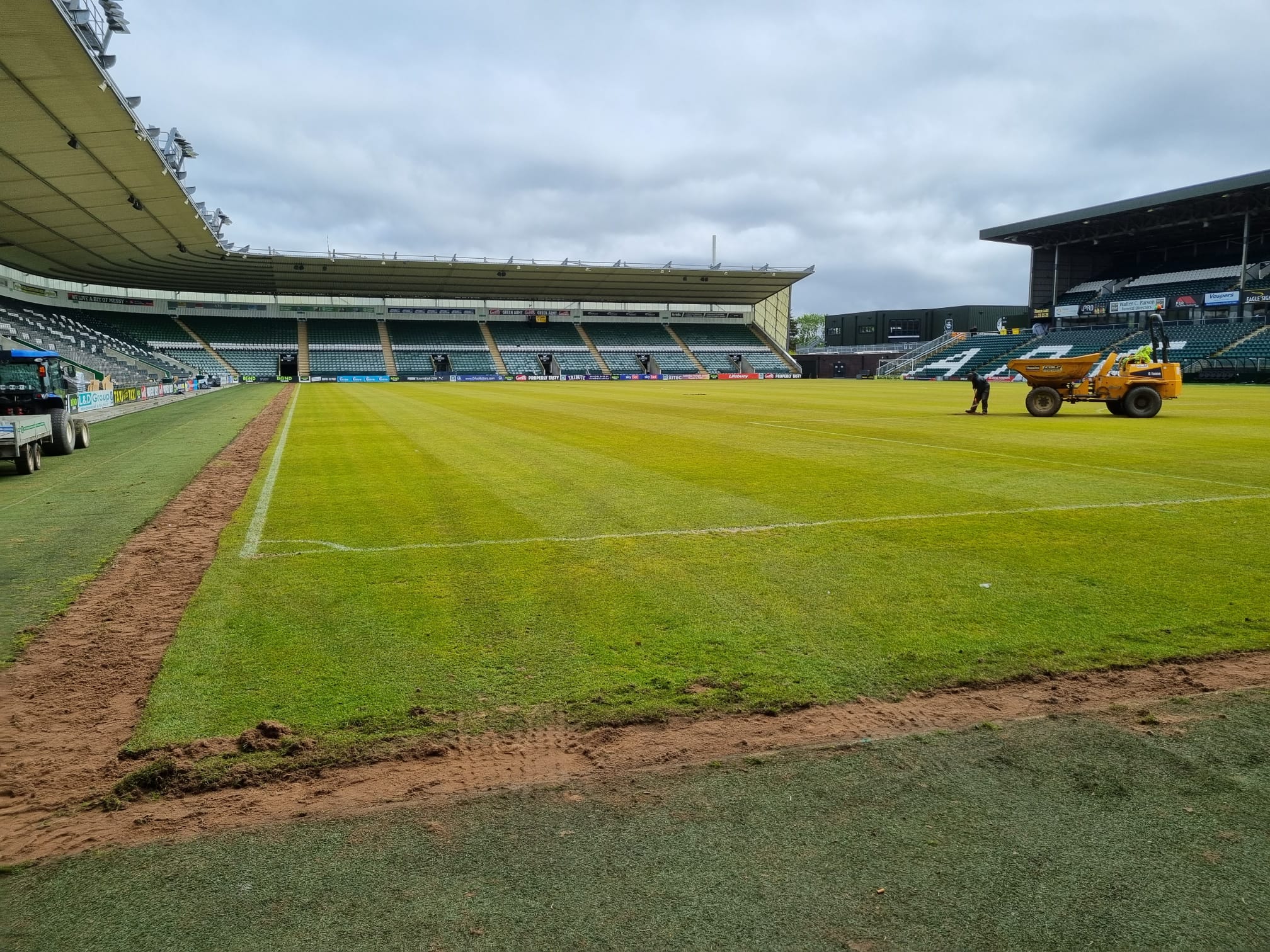 "We'll then need to address a few issues we've had with the levels.
"Over the years we've lost a bit of the shape and it dips slightly, an example of this is the corner by the Devonport that Mr Broom found to swim in against Bolton.
"The pitch should be like an upside-down saucer, that's the look we're looking for, so no water sits and pools.
"We then chuck on the new sand, put in the fibre sand, level it out, turn it over or plough it to mix it all up, then rake it, seed it and hope that it all comes up as a nice even green carpet.
"With the fertilisation and germination, it'll take about six weeks and should be looking great.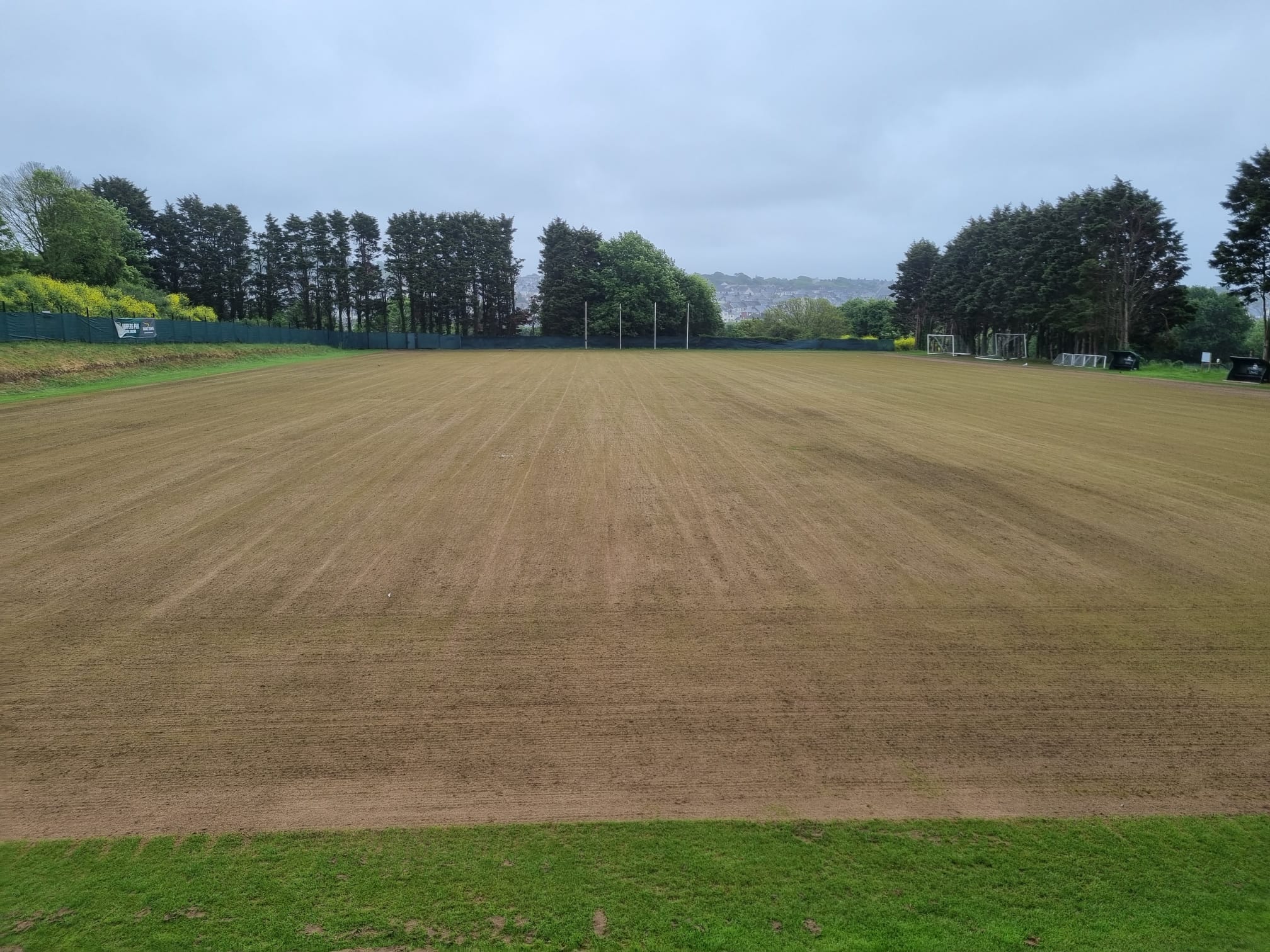 "Both pitches at Harper's Park have been scaled back, reseeded and left to germinate.
"We've put lots of water on it, fertilised and hopefully in a couple of weeks it'll begin to grow.
"We've also added extra draining on the top pitch, a process called sand-banding. It uses sand and goes down in strips on a slight angle on the pitch to improve the drainage – this is the fourth time we've done it, so it drains really well now.
"We do these renovations every year because we, the manager, the club want a specific type of playing surface and this just makes sure the grass is as strong and fresh as it can be.
"We don't want another situation with algae again, do we? So, this is the process we go through to make sure it's just right.
"We do the stadium, Harper's Park, Manadon and Millennium Street pitches.
"We don't have water at Manadon and Millennium, so we are slightly restricted there but we have work arounds. We are trying to achieve the same things there, that we do here but it's just a simplified version.
"It seems to be going alright at the minute, but we could do with just a little more rain if I'm being honest, maybe at night and then sun during the day."
Spoken like a true groundsman.