Fixture News
Chelsea Rail Travel Guide
Saturday 5 February will see a 6,000-strong Green Army support travelling to Stamford Bridge for the Pilgrims' Emirates FA Cup fourth-round clash with European champions Chelsea.
Many fans will be choosing to travel to London by rail, but with large-scale planned engineering work set to affect train services between Plymouth and Exeter, we've put together (with the help of train operator Great Western Railway) a useful guide to travelling to and from the match by rail.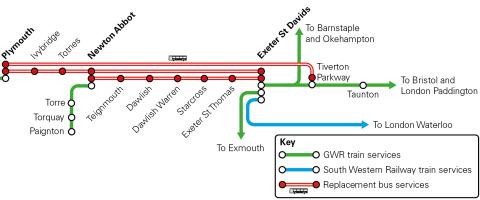 Due to the improvement works there will be no trains running between Plymouth and Exeter St Davids over the weekend of 5/6 February.
Replacement buses will run between:
Plymouth – Tiverton Parkway (non-stop)

Plymouth – Ivybridge – Totnes – Newton Abbot – Exeter St Davids
Why is engineering work taking place on this day?
Rail improvement work such as this is usually planned months or even years in advance and is needed in order to keep the railway safe and maintained.
The type of the work being undertaken over this weekend means that it was not possible to change at late notice when the fixture was confirmed.
Important to note
Rail replacement buses on journeys before and after the match are likely to be very busy, and though Great Western Railway are trying to source more vehicles to help travellers connect with train services, there may not be enough space available to take everyone at their chosen time.
If all replacement buses are full, there will be no alternative transport available. Fans will need to wait for the next available service.
How to avoid the engineering work
Travel from a different station
To avoid the replacement buses, consider starting your journey at Exeter St Davids, Tiverton Parkway or Taunton where direct trains to London Paddington are available. All these stations have large car parks.
Tiverton Parkway is situated just off the M5 (at Junction 27) and is ideally placed for quick transfers between car and train.
Here is a summary of trains for these stations before and after the match:
Exeter St Davids to London Paddington - Saturday 5 February 2022
Exeter St Davids
d
0627
-
0700
0727
0733
0748
0827
0916
Tiverton Parkway
d
0641
-
0715
0741
-
0802
0841
0931
Taunton
d
0653
0657
0728
0753
0758
0815
0853
0944
London Paddington
a
0912*
0936
0929
1012*
1036
1029
1111*
1129
*Change at Bristol Parkway
 
London Paddington to Exeter St Davids - Saturday 5 February 2022
London Paddington
d
1504
1604
1636
1704
1804
1904
2004
2032
Taunton
a
1645
1748
1833
1845
1943
2102
2201
2306
Tiverton Parkway
a
1658
1801
-
1858
1956
2115
2214
2319
Exeter St Davids
a
1721
1817
-
1922
2011
2131
2229
2335
Some trains after the match are likely to be busy. Don't forget to reserve a seat on your preferred train in advance. You can do this when booking your journey at GWR.com
Travel before the engineering work starts
Journeys between Cornwall, Plymouth and London are unaffected by the engineering work on Friday 4 February. Travel up the day before and take it easy on the morning of the match.
Replacement buses will also be busy after the match on Saturday. You may wish to travel back down on Sunday morning when services will be quieter.
South Western Railway (SWR) services
SWR also run services from Exeter St Davids towards London Waterloo. Change at Clapham Junction for London Overground trains to Imperial Wharf which is a 15-minute walk from Stamford Bridge.
Trains before the match depart Exeter St Davids at 0510 and 0725. Trains after the match depart Clapham Junction at xx30 each hour until 1930. Journeys take approximately 3.5 hours.
Travelling from Cornwall
Only one train on the Saturday morning from stations in Cornwall (that connects into replacement buses and onward trains to London Paddington) will arrive in time for kick-off.
With capacity on replacement buses due to be extremely limited, there is no guarantee you'll be able to make it in time for the match. We strongly recommend starting your journey at Exeter St Davids, Tiverton Parkway or Taunton if you can.
Getting to Stamford Bridge when in London
From London Paddington
The nearest tube station to Stamford Bridge is Fulham Broadway which is just a 5-minute walk from the stadium. District Line services run direct between Paddington and Fulham Broadway and take approximately 12 minutes. Services run every 10 minutes.
Taxis are available to hire from the rank at the north side of London Paddington station.
Alternatively, Stamford Bridge is approximately a 60-minute walk from London Paddington station with the walking route taking you through Hyde Park. 
From Clapham Junction (from South Western Railway services)
Direct London Overground services run between Clapham Junction and Imperial Wharf. Stamford Bridge is a 15-minute walk from Imperial Wharf station.
GWR advice
Start your journey at Exeter St Davids, Tiverton Parkway or Taunton if you can

If you're using the replacement buses, travel as early as possible and allow plenty of time to complete your journey

Check your times carefully and reserve a seat before travelling. Visit GWR.com to plan your journey and buy tickets in advance (with no booking fees)
Information correct as of 18 January 2022