Club News
Fan Zone Returns to Mayflower Grandstand
The popular Fan Zone returns to the Mayflower Grandstand ahead of the visit of Doncaster Rovers on Saturday.
Located within the gated area behind the Lower Mayflower, the Fan Zone aims to provide a best-ever match-day experience for the Green Army seated on that side of the stadium.
Having changed our working arrangements with the NHS to erect a smaller marquee to double up as a versatile space for supporter use on match-days, supporters will notice the return of a number of food kiosks, bars, and a covered area with tables and chairs – which will be really beneficial for supporters as we approach the colder months of the season.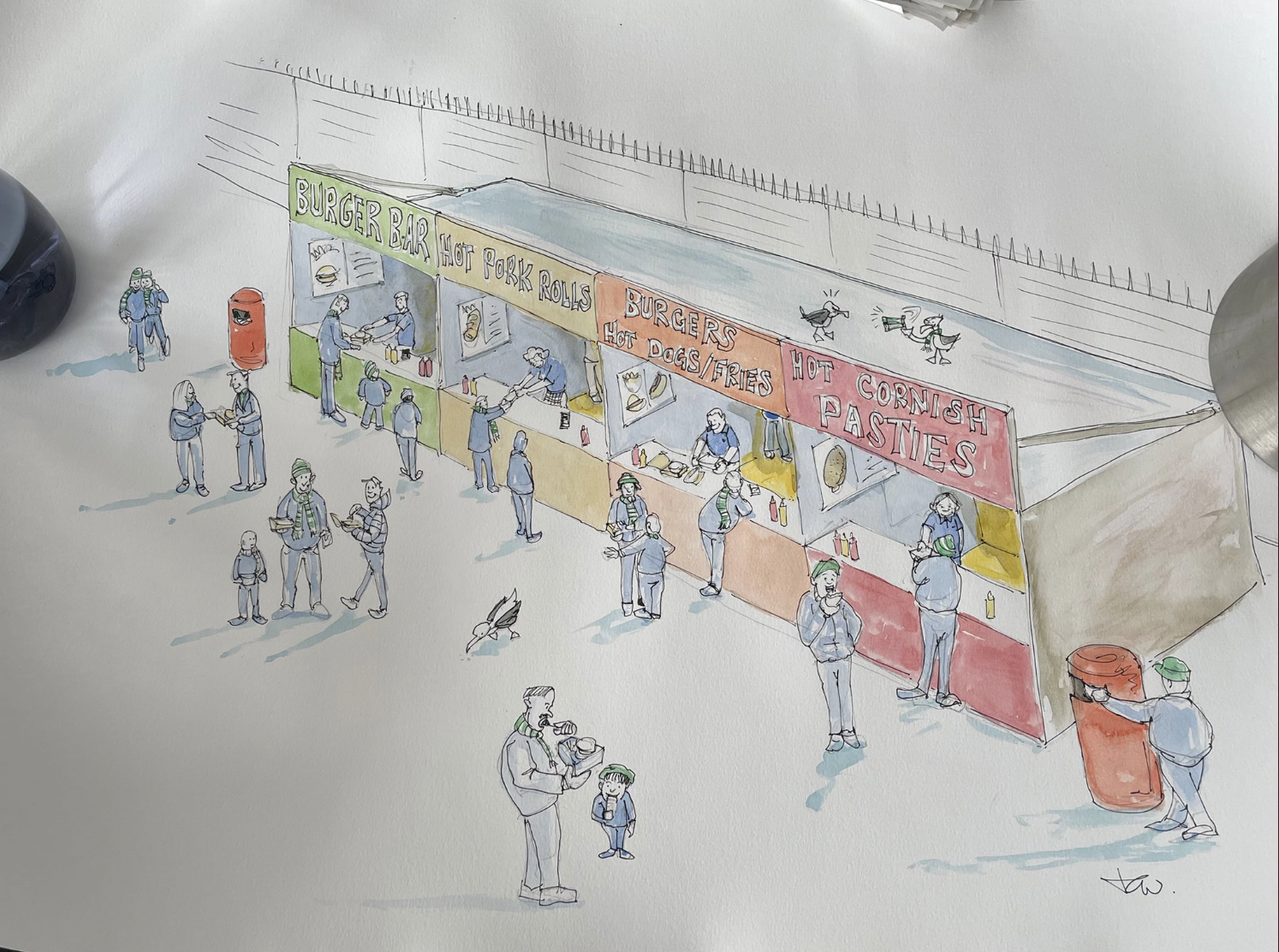 An indicative sketch of how the new Fan Zone will look behind the Mayflower Grandstand
The new catering vendors located within the Mayflower Fan Zone will serve a range of hot, cold and alcoholic drinks, as well as offering fresh and delicious food – including hot dogs, fries, pasties, pulled pork baps and baguettes.
The return of the Fan Zone also means the return of live pre-match entertainment at Home Park, and we are excited to welcome local indie band The Helluvas to the Theatre of Greens to play a range of indie and Britpop anthems from 1.30pm to get you in the mood for kick-off.
Argyle Head of Venue, Christian Kent, said: "Firstly, I must express my gratitude to the NHS for supporting us in our effort to keep improving the match-day experience at Home Park.
"We are really excited by the developments on the Mayflower side of the stadium ahead of our next match-day on Saturday, and it's really pleasing to be able to return to using the facilities for their intended purpose again.
"We can't wait to see fans return to the Fan Zone ahead of kick-off. Our message is come early, get something to eat and drink, and enjoy the live entertainment."
As ever, we welcome all supporters' feedback regarding their match-day experience at Home Park. If you have something you would like to share with us, please email feedback@pafc.co.uk after the game.