Men's First Team
Hardie's Peterborough Preview
In January 2020, Argyle signed Ryan Hardie to a loan deal that was set to run until the end of the season.
The following summer, he once again agreed to a loan spell, and by January 2021, he had made that permanent. Now, just over three years since he first became a Green, Ryan is poised to his a significant milestone.
Should he be selected to begin Saturday's game away to Peterborough United, Hardie will be starting for the 100th time for Argyle. Add to that another 49 appearances from the bench, and it will not be long until it is the Stranraer-born forward's 150th appearance in all.
"It feels like the time's flown by since I've been here," he told Argyle TV. "One hundred starts for this club, it's going to be a special one for me. Whether it comes on Saturday or it comes a week after, it's going to be one I look forward to.
"As soon as I got down there and had the taste of it, it was somewhere that I wanted to play a lot of football. It's the most I've played for a club by a long stretch, and it's come quickly. It's nearly 150 in all, so to play so many games for one club, it's something that I'm definitely proud of. I'm looking forward to hitting that milestone.
"It's something that I never envisioned. When I did sign here, it was only a loan deal for six months. To go on and make that achievement is going to be one that I'm very proud of and definitely my family's proud of it. There's been a lot of people here lately.
"To make 100 appearances for this club, it's going to be a special one for me."
You can be sure that Hardie is eyeing another landmark, too. He is currently on 47 goals for the football club, which has him joint 28th on the all-time list, alongside 1950s stalwart Peter Anderson. Names such as Dwight Marshall, Sean McCarthy, Graham Carey and Reuben Reid loom in his sights. Four more goals will see Hardie into the top 20 of all time, and he knows it.
More pressingly, he knows that his 15 goals this season have been a significant reason Argyle are where they are: second in Sky Bet League One and in a Papa Johns Trophy final.
In the Trophy semi-final on Tuesday night, he scored a delicious goal to bring Argyle level against Cheltenham Town, and he scored Argyle's first in the penalty shoot-out which the Pilgrims ultimately won.
The clipped equaliser was Hardie's third goal in February, following late coups de grace against Portsmouth and Oxford United, both in 3-1 Argyle wins.
He also has a nice record against Peterborough, scoring the second goal in a 2-0 Argyle victory at Home Park early this season, and bagging two in a 4-0 victory at Posh in last season's Carabao Cup.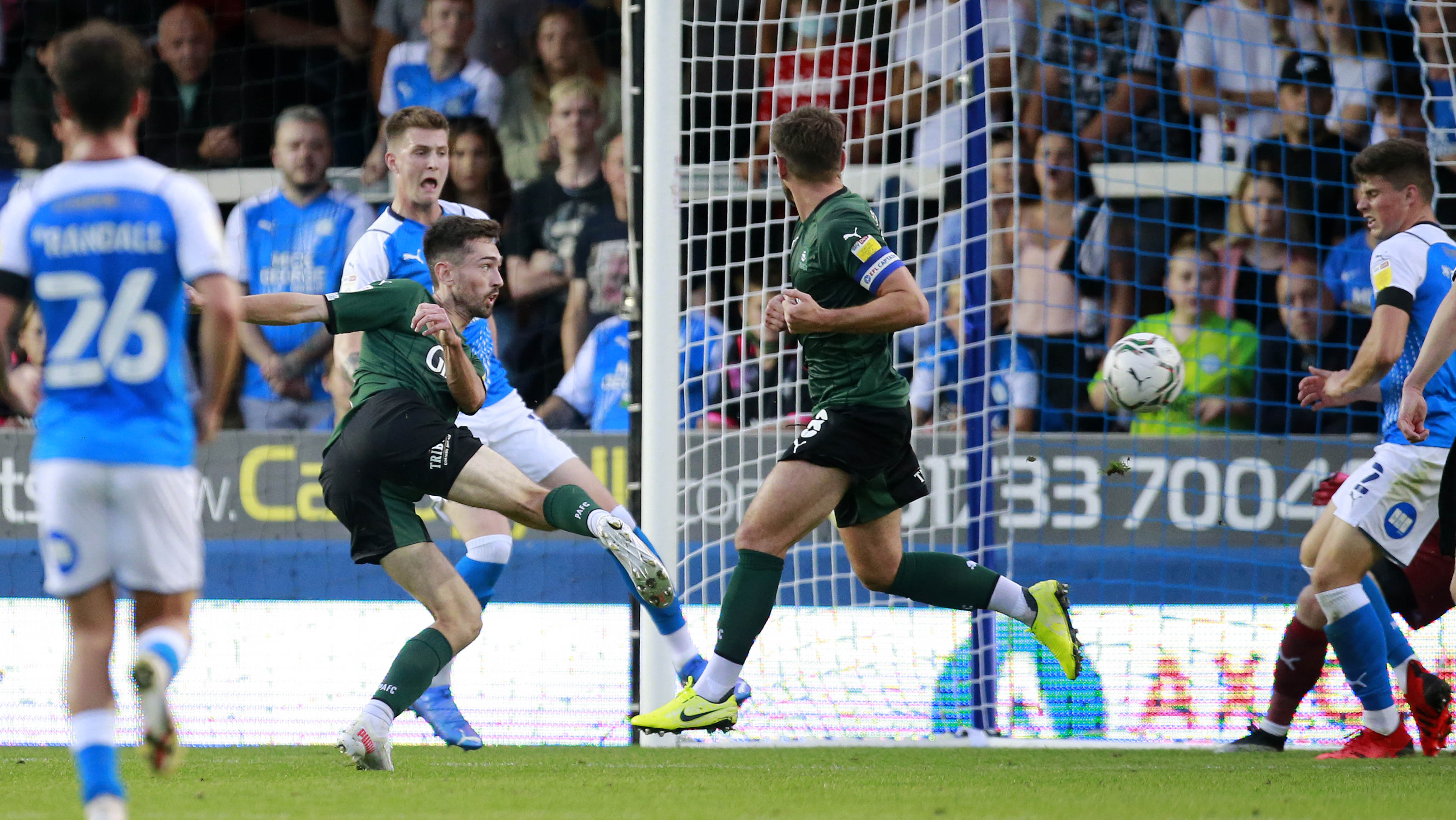 Ryan said: "To be honest, I don't even remember the first game [against them] this season. I don't remember last week! It is something that I'll think of: if I scored here, then it's about repetition and doing it again.
"I go into every game hoping that I'll score. I'm confident that I'll scoring in every game. I've got a good record against Peterborough.
"I've played a few games in a row which helps for momentum and a bit of rhythm. I feel like I'm improving every year. This year, we're playing a lot of different formations and there's a lot of changes in the team, so it's been one that we're all adjusting to and I think we've all settled into it pretty well.
"Everybody buys into what the managers planned this year. We all knew there were going to be changes in January when we strengthened.
"We've all got the same end goal, which is promotion at the end of the year. If you're not happy, I think you're going to struggle because there's always somebody waiting to take your jersey who is happy and who is ready to go. It's been an exciting season so far.
"[The semi-final win] has given us a bit of excitement, a bit of a taster about what is to come. If that's what happens when we get to the final of the Papa Johns, then what's going to happen if we do get promoted?
"It's something that's just given us an extra kick, an extra buzz to get ourselves going again and just carry that form into the rest of the season."