Club News
Jack Leslie Statue Sculptor Announced
Exactly one year after the launch of the Jack Leslie Statue Crowdfunder, the Jack Leslie Campaign has announced that renowned sculptor Andy Edwards has been commissioned as the sculptor of the statue of Argyle icon Jack Leslie at Home Park.
Andy boasts a wealth of experience in delivering iconic sporting statues. Examples of his work include the acclaimed Clough/Taylor statue at Derby County's Pride Park and the highly regarded Stanley Matthews sculpture at Stoke City.

Andy was selected with careful consideration, which included thorough interviews of four shortlisted candidates. Andy's work also includes statues of The Beatles (seen above), boxing legend Muhammad Ali, and civil rights campaigner and slavery abolitionist Frederick Douglass. You can see more examples of his work by clicking here.
Andy has his principal foundry in Liverpool, but he has pledged to use web-cams and social media to document his progress.
This means that supporters of the Crowdfunded statue can watch its progress, wherever they are in the world.
Andy will be visiting Plymouth shortly to look at the location, meet the Campaign committee and, of course, to take in an Argyle match. You can see a small illustration of what the statue will look like below.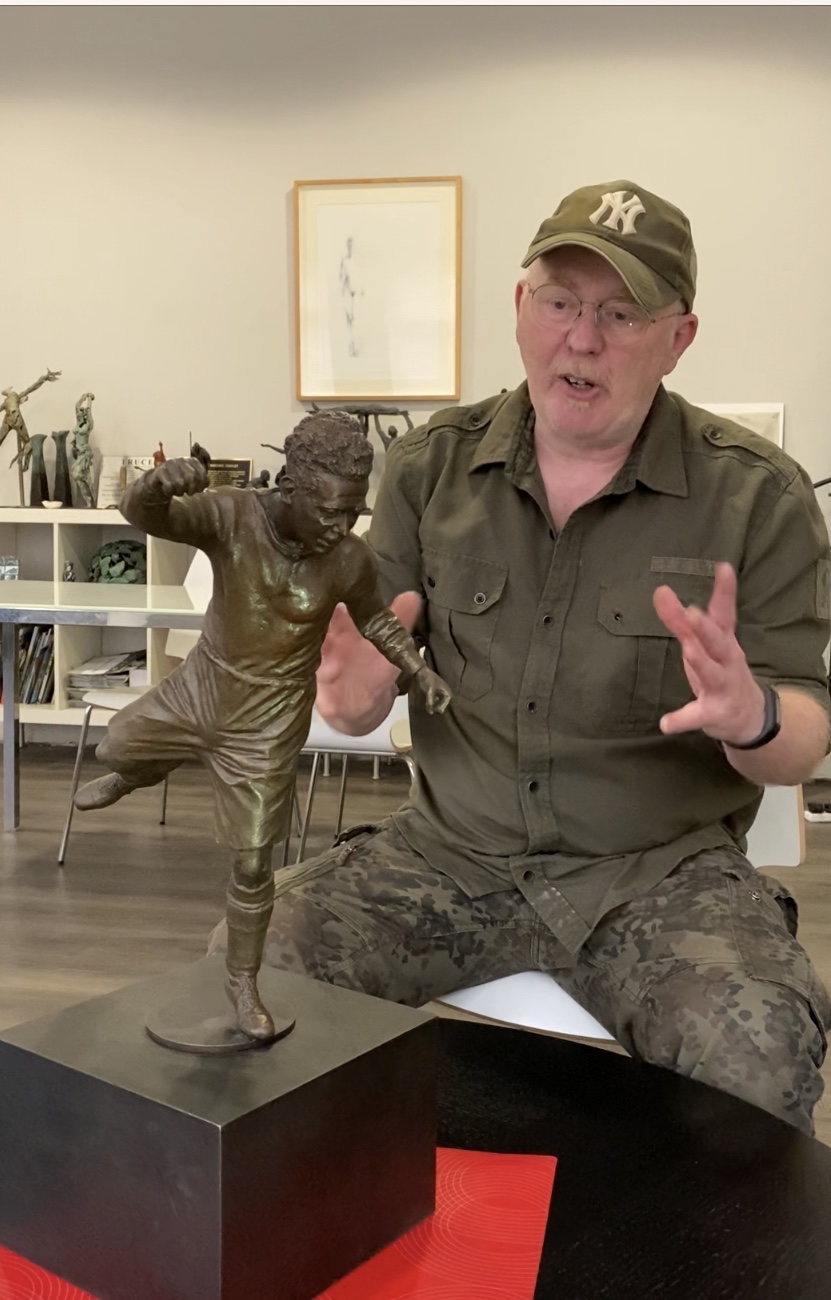 Andy's tender for the Jack Leslie statue project was made in partnership with Monumental Icons, but this is very much a personal project for Andy and one that inspires him greatly.
On hearing the news of his selection, Andy said: " I am eternally grateful and very excited to have been chosen to work with the devoted members of the Jack Leslie statue group, the proud fans of Plymouth Argyle Football Club, and the wider football community in furthering all of our appreciation of a real legend of the game, and a man whose story can still affect change nearly 100 years on.

"I hope to create a statue of peerless quality celebrating excellence, that will also represent respect, dignity, devotion and invigorate the quest for equal rights for all. To everyone who has given their support and backing to this initiative, I will not let you down."
Campaign co-founder Greg Foxsmith said: "We are delighted to give Andy this commission, but we would also like to thank all of the shortlisted artists who spent so much time and energy on creating such brilliant proposals. It made it really difficult for us to make the final decision"
Jack's granddaughter Lesley said: "We love the range of ideas, and we look forward to working with Andy to see a statue that is an accurate portrayal of Grandad."

Jack signed for Argyle from Barking in 1921 and scored 137 goals in his 13 years with the Pilgrims. The pinnacle of his career should have been in 1925 when Jack was selected to represent England in a game versus Ireland, but his name was removed from the team sheet when officials discovered that he was black. The club honoured Jack's pioneering status in football by naming the boardroom in our redeveloped Mayflower Grandstand in his honour.

For more information on the great work of the Jack Leslie Campaign, visit their website.