Club News
Weekend Feedback
The club would like to place on record our sincere gratitude to supporters for assisting us with implementing our Covid Status checks for the first time during Saturday's excellent Sky Bet League One victory over Charlton Athletic at Home Park.

Having heeded our call to arrive early with Covid Status proof in hand, all supporters were processed and inside the stadium well ahead of kick-off, with our systems confirming that 85% of the total attendance had been scanned through the turnstiles by 2.30pm. This represents a significant improvement on the 55% for the previous fixture against Wigan Athletic and, as a result, there were no queues at the turnstiles by 2.45pm.

Early arrivals made the process much smoother for club staff and fellow supporters, and it also allowed us to achieve a near-100% Covid Status check. Guidance provided asks for 100% checks where it is deemed "reasonably practical", and supporters' assistance remains vital in ensuring that Home Park is as Covid-secure as possible with reported cases on the rise.

With our next home fixture, against Portsmouth on Wednesday, 29 December, approaching a sell-out, we ask again that supporters continue to arrive early to help keep arrival checks as smooth as possible.

While the Charlton fixture was a roaring success on and off the pitch, a capacity crowd of an evening presents another level of challenge, and we will need your help again to ensure that a sell-out crowd is processed ahead of kick-off to support Steven Schumacher's Greens at a crucial point in the campaign.

A sell-out for the visit of Pompey means an increase of around 25% attendees when compared with the Charlton fixture, with additional logistical challenges posed by an evening fixture and a large away contingent. As such, turnstiles will be open from 5.45pm (two hours before kick-off), and we encourage supporters to arrive early for everyone's benefit.

Feedback from both supporters and our safety team has been overwhelmingly positive, but we are aware of a few issues that affected a small number of supporters' entry into the stadium.

A number of supporters opted to download their Covid Pass while queueing for entry. This can be a cumbersome process, and is reliant on mobile data, which has a tendency to struggle in high population areas. As such, we once again remind supporters to either download their Pass to their mobile device wallets in advance of arriving at Home Park, or bring a paper copy – which has the added benefit of being both easier to check and longer lasting.

In a similar vein, we remind supporters that lateral flow tests need to be taken within 48 hours of the fixture to stand as evidence of Covid Status, and only NHS confirmation of a negative test within this time period, rather than the physical test itself, will serve as proof for entry.

On Saturday, the club took the pragmatic decision to grant entry to supporters who presented their NHS vaccination cards upon entry. However, guidance stipulates that vaccination cards are not valid evidence in themselves, and we will be unable to grant entry to supporters who provide vaccination cards alone as proof from the Portsmouth fixture onwards.

Please see the graphic below for a full list of acceptable Covid Status evidence: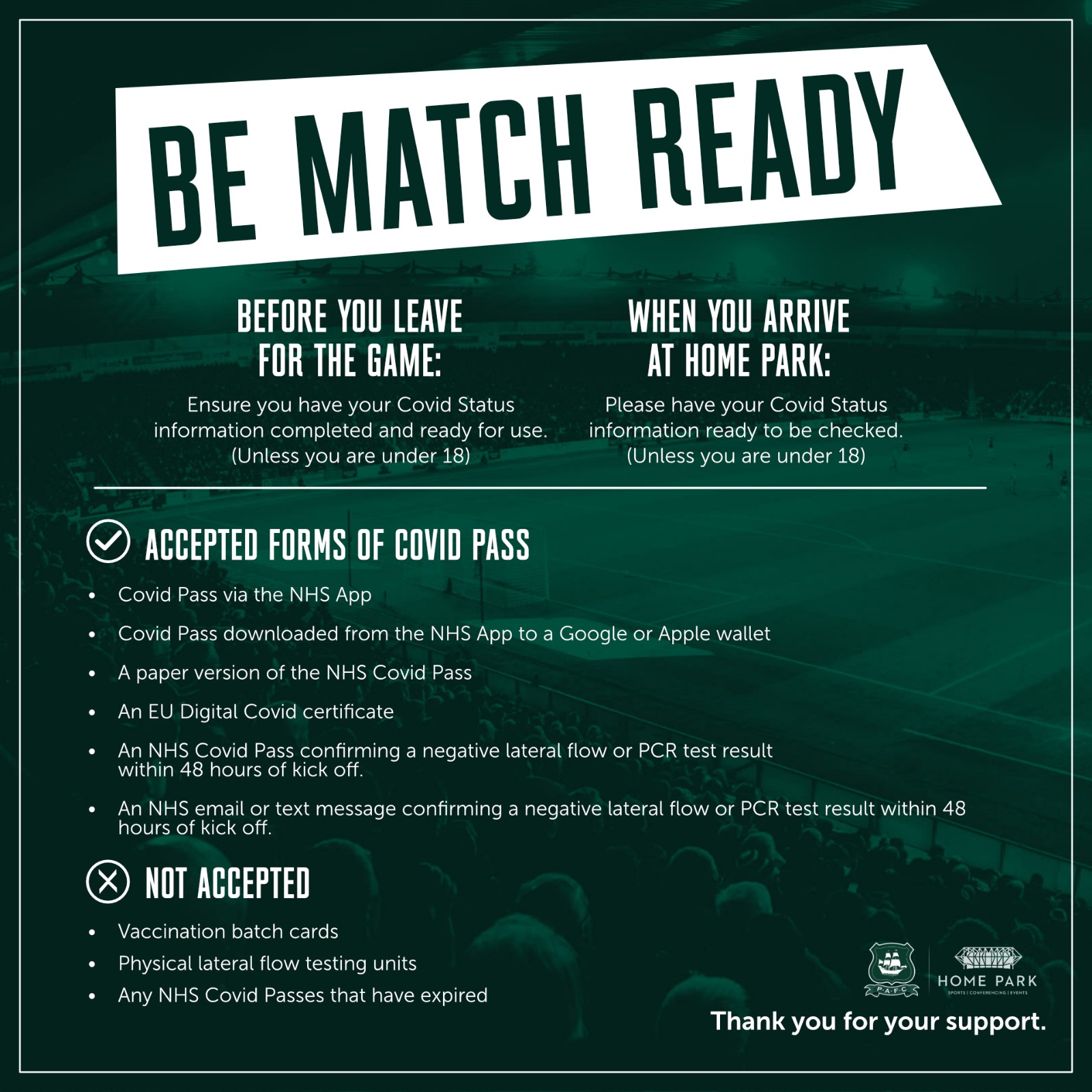 The club continues to monitor and act upon feedback from supporters, and we have made clear and notable progress stadium-wide from our last home fixture against Wigan Athletic. Refreshment kiosk queue times were reduced, and we continue work to upgrade equipment and enhance menus. The club is also in active discussion with St Austell Brewery regarding the installation of new outlets and equipment in the concourses to improve service times.

In the Devonport End, we are pleased to report that there were no reports of anti-social behaviour in the concourses, and our stewarding team observed no issues in the stadium bowl either.
 
Meanwhile, on the pitch, the EFL's decision to move to upgraded Red Zone protocols will limit some of the on-field entertainment and activity during match-day until further notice. We apologise for any disappointment this causes, and thank supporters for their understanding.

As ever, those in attendance are encouraged to send in their observations and feedback to feedback@pafc.co.uk.

Thank you for your support.