Fixture News
Wembley Rail Update
Following suspension of planned strike action for the weekend, we are delighted to have partnered with GWR to provide an updated rail timetable for the Papa Johns Trophy Final.
What you need to know:
Saturday 1 April: Following the suspension of strike action, trains are planned to run as normal on this day, allowing fans looking to travel early to do so

Sunday 2 April: All direct trains between Plymouth and London Paddington before and after the match will be reservation only – you must have a seat reservation to travel on these trains

Most trains on Sunday morning are now fully reserved. If you do not have a seat reservation for a train on Sunday, you should travel on Saturday instead

To help people board safely a queuing system will be in place at Plymouth and London Paddington. Customers without seat reservations will not be able to board reservation only trains

Passengers boarding at Plymouth should arrive at the station in plenty of time to allow for full ticket checks and boarding controls
Trains before and after the match on Sunday 2 April: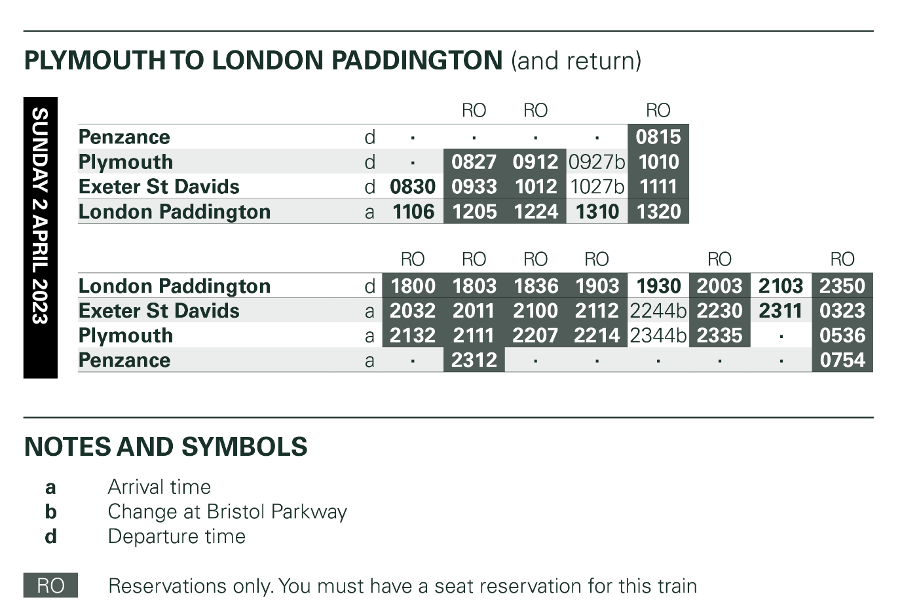 Travelling from Cornwall
Only one train on Sunday morning from stations in Cornwall will arrive in time for kick-off.
The only train back to Cornwall after the match leaves at 1803 which will not be useable should the match go to extra time.
Why are seat reservations mandatory on so many trains?
Limiting entry on trains to those who hold seat reservations helps ensure the safety and comfort of all passengers on board. It also helps to give certainty to those intending to travel that they will be able to board their preferred train.
Where can I book a seat reservation?
Update: The 0827 and 0912 trains between Plymouth and London Paddington are fully reserved. Do not travel on these trains if you don't hold a seat reservation for these services.
Book your train ticket at GWR.com and select your preferred train. You will then be prompted to book a seat reservation. Reservations are free of charge.
Alternatively, you can purchase tickets and book a reservation at the ticket office at your nearest staffed station.
How can I book seat reservations if I already have a ticket?
Contact the Great Western Railway social media team on Twitter, Instagram, WhatsApp or Facebook Messenger. They can book you a seat reservation for no additional charge if you can provide proof that you have purchased a ticket.
Alternatively, you can visit the ticket office at your nearest staffed station and ask for a reservation. Just remember to bring your ticket as proof of your purchase.
If you have a ticket for Sunday but no seat reservation, you should consider travelling up on Saturday instead. Contact Great Western Railway who can help you change your ticket.
What if all trains are fully booked?
Do not attempt to board a train that is marked as reservation only without a seat reservation.
Boarding controls and ticket checks will be made to ensure only those with reservations are allowed on board.
There are a number of alternative options if you can't book a reservation:
Travelling before or after Sunday 2 April

Travel on a service which is not reservation only

Start your journey at Bristol Parkway, Bristol Temple Meads or Weston-super-Mare instead
What is the plan for train services on Saturday 1 April?
Industrial action by the RMT union was due to take place on this date but this has now been suspended. A full train service will operate on this date.
Are extra trains going to be running?
No additional trains are able to be provided. All trains due to run on Sunday 2 April are shown in the tables above.
South Western Railway services from Exeter St Davids
Engineering work will take place between Salisbury and Andover over the weekend of 1 and 2 April. Trains from Exeter St Davids to London Waterloo will terminate at Salisbury with replacement buses in operation as far as Andover.
How do I get to Wembley from London Paddington?
Bakerloo line
The Bakerloo line runs direct from Paddington to Wembley Central station. Wembley stadium is approximately 20-25 minutes away from here.
Metropolitan line (via Baker Street)
Take the Bakerloo, Hammersmith & City or Circle lines to Baker Street and change for Metropolitan line trains to Wembley Park.
The walk from Wembley Park to the stadium will take approximately 15 minutes and includes the famous Olympic Way (also known as Wembley Way).
Chiltern Railways (via London Marylebone)
Take the Bakerloo line from Paddington to Marylebone and change for Chiltern Railways trains from London Marylebone to Wembley Stadium station. As the name suggests, the station itself is just a short walk away from the stadium (approximately 10 minutes).
Taxis
Taxis are available to hire from the rank at the north side of London Paddington station.